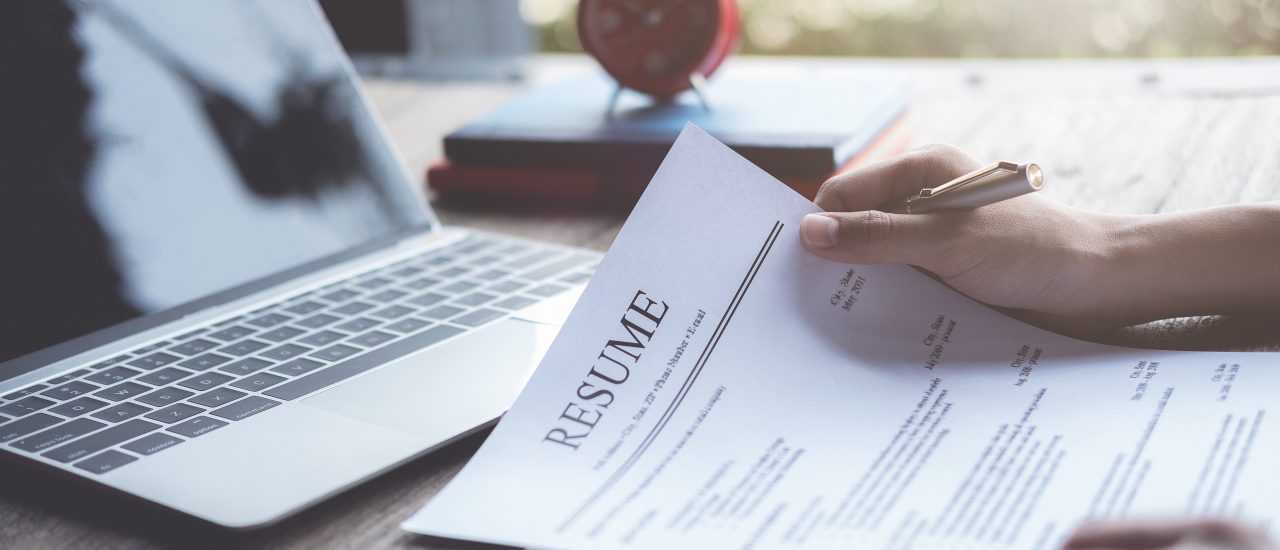 CV Tips
It's you but on paper. From content to formatting, here's how you can impress.
Your CV is your first opportunity to make a good impression on the company you want to work for. A clear and concise CV that is easy to read can go a long way towards securing that first interview.
In short, the best and most concise advice is:
let the content do the talking
avoid whacky formats, colours, pictures, logos, and multiple fonts
keep it professional and concise
set out your experience in a clear and logical order
Your CV should ideally be no more than 2-3 pages but don't worry if it runs over a bit, as long as the information included is relevant.
If you're adding new experience to an old CV, be sure to edit out bits of outdated information that are no longer necessary. For example, if you're on your third job it's probably time that your 6-week university work placement hits the cutting room floor!
The most beneficial items to include on your CV (in this order) are:
Contact Details and Information
Mission Statement
Skills
Work Experience
Academics
Interests
Personal Details
Start off your CV with your personal information: name, contact details, LinkedIn address etc.
No comedy email addresses – keep it simple and professional.
You don't need to include your date of birth, marital status, gender or other extra-details. In fact, most companies will ask that this information be removed before a CV is submitted due to anti-discrimination legislation.
Nationality and work permit/ visa information is useful to confirm right to work status.
Mission Statements
Many people like to include some form of an Mission Statement at the top of their CV. Unfortunately, in many cases the result is an unnecessary paragraph that relies solely on the candidate's self-assessment of their ability to 'work well in a team' or their 'keen eye for detail'. These types of clichéd statements unfortunately don't add much and can work against you.
A Mission Statement can offer useful information that relates specifically to the role you're applying for or your aims in securing your next role. Have you recently graduated from university and hope to earn a trainee role and study towards your ICSA qualification? Do you live in London but hope to relocate to the North West? Including these facts in a Mission Statement can help direct the reader and pinpoint your relevance to a role.
Skills
Following your mission statement, you should list your relevant skills. It's best to do this in a bullet form list.
Do you speak French fluently? Are you a whizz with BoardPad or do you know Diligent inside and out? There will be employers who are looking specifically for these skills and others, so be sure to spell it out for them.
Work Experience
Now to get to the heart of the CV: your work experience. Here you'll want to illustrate the breadth and depth of your experience while making the essential elements easy to access and clear.
You should list your experience in reverse order, so the most recent job first. The key is to keep things clear, concise, and relevant. Resist the urge to go too heavy on the details – you don't want to leave yourself with nothing to expand on at interview. Don't be afraid, however, to add a line or two about each of your jobs to help set the scene and help the reader understand the context of your role – who do you report to, how many people are in your team and how does it fit within the structure of the organization. Add just enough colour to help bring your experience to life.
Using bullet points will make your CV much more digestible. Subheadings and the selective use of your bold button will also help to make your CV an easy read.
Large blocks of texts are daunting for the reader, especially if they have several CVs to review. You don't want their eyes glazing over just when they're getting to the best bit! Your experience should reach out and grab them.
For example, if they were to quickly scan over your CV, could they easily find that you have experience of pensions administration or that you have attended and minuted board meetings? Make sure they can!
Also be sure that you include explanations of any substantial gaps on your CV. Did you take time out to travel, renovate your home, have a child, or raise a family? If so, add this to the work experience section chronologically where the gap occurs. There's no need to go into a huge amount of detail but a brief explanation along with the dates you took the career break will save questions being asked.
Academic Achievements
Like your work experience, your academic achievements should be listed in reverse chronological order. From A-levels onwards, you should always include the names of the schools or universities, grades you received and the years you attended. If you're worried that a lacklustre grade will spoil your chances for a role, talk to your recruitment consultant and ask for their advice. You'll probably find that in most cases your experience will outshine any academic shortcomings.
It's helpful to give more details about any recent pending ICSA qualification. List exams completed, the results you received and the exams you plan to sit next and when, as these are particularly relevant and potential employers will take a keen interest. They will also want to know how many exams you have left to take. If you're already qualified your ICSA status will suffice e.g. GradCG, FCG, or ACG.
Interests
Include your interests at the bottom of your CV. They help to personalise a straightforward, factual document. Your interests can also act as a springboard for interviewers to ask questions which might allow you express your personality at interview. Do try and keep in mind what your interests might say about you as a potential employee. Are they all solitary pursuits or do they focus solely on one area of interest? If so, what will this say about your ability integrate with the team or how well rounded a person you are? By the same token, if you have a huge list of time-consuming pursuits you might give the impression that you won't have any time or energy left to give to your job.
A few things to remember
Avoid using unusual fonts and colours. They may catch a potential employer's eye… but not in the way you'd hoped.
Avoid referring to yourself in the third person. Ensure your CV is in the proper tense throughout.
Pay attention to the formatting. Keep it simple, neat and be consistent. If one subheading is in bold and italics, then all subheadings should be in bold and italics.
Ask someone else to give your CV the once over to check for mistakes and make use of your spell checker. A CV riddled with typos and grammatical errors will never make an interviewer's shortlist.
Remember – your online profile offers any potential recruiter a window into your world so do not ruin all the good work of your CV by showcasing less-than professional profiles and pictures on LinkedIn, Facebook, or any other site. Keep your private life private! You can read more about social media best practice here.
Most importantly…
Don't take the risk of misrepresenting yourself in any way. If you don't have the experience that you describe on your CV this can easily be revealed by a skilled interviewer. Also, some companies have very involved vetting procedures to verify the details of your CV.
Imagine how horrible it would be to go through three rounds of interviews, accept an offer and then get caught out on a fudged date or grade? It's just not worth it!
Subscribe to alerts
This form collects your information so we are able to get in touch with you regarding your enquiry.
Check out our Privacy Policy for more info about how we manage your data.